Looking for The Beaches Jacksonville Yard Design?
We are your local experts for The Beaches Jacksonville Yard Design!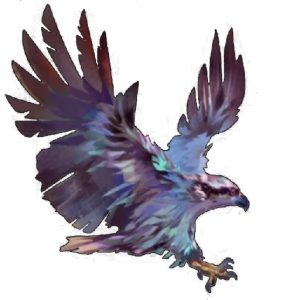 Hawkstone Outdoor Design is Jacksonville, Florida's premiere backyard designer and builder of dream backyards. From outdoor living spaces and kitchens to pools and hardscapes, we can turn your dreams into reality.
We'll take the time to understand exactly what you're looking for, and use your vision and personal tastes to produce a backyard that is truly one of a kind. How much does it cost? Use our ONLINE COST ESTIMATOR to find out now!
Build the backyard of your dreams with Hawkstone Outdoor Design. Contact us today at 904-467-6900 or use our convenient online request form.
If you can dream it, we can build it for you!
Here is a small sampling of some of the outdoor living spaces we have designed and constructed for our greater Jacksonville area clients.
Click on the images to enlarge and use the left and right arrows to scroll through the pages of the gallery:
Initial Consultation
All we need to start planning your perfect Jacksonville area outdoor design is a site survey, a list of your goals, and a walk-through of your outdoor living space.
Whether you are looking for professional guidance or just someone capable of bringing your vision to light, Hawkstone Outdoor Design is the company for you.
Proposal
There are two ways to start planning your dream backyard.
In most cases, approaching the project from a budget standpoint can be the most valuable.
Hawkstone Outdoor Design and their professional consultants will be able to present as many options as needed for you to make the best possible decision for your new outdoor living space.
If you are more of a visual decision maker, going straight into the design phase may the recommended way for you. During your consultation we can discuss that process as well.
Design
Know before you go!
Hawkstone Outdoor Design's dedicated team of professionals can visually portray your ideas for your outdoor space quickly and efficiently.
Using cutting edge technology, we can "plug and play" multiple ideas for you to ensure you see all possibilities and can make the best-informed decisions that suit your personal taste and vision for your Jacksonville outdoor design.
Build
Hawkstone Outdoor Design settles for nothing less than the best.
We promise to build the backyard of your dreams to the highest level of expectations as efficiently as possible without sacrificing quality
Even with the best builders in the field, Hawkstone Outdoor Design will be watching the crew "like a Hawk", ensuring all of your goals are achieved down to the smallest detail.
Enjoy
Now that the dream is a reality, you get to enjoy your backyard for years to come.
Hawkstone ensures the quality just as much as the longevity, and we stand behind our work long after your project is complete.
Welcome to the Hawkstone family!

The Beaches Jacksonville Yard Design & More
The dream backyard for your Jacksonville home.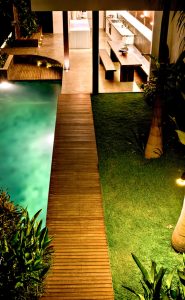 Here in Florida, we have the ideal climate for outdoor living. With warm summers and mild winters, you can truly enjoy the outdoors year-round with a nice mix of ways to keep yourself entertained.
Of course, heading to the beach or retreating to your local community pool is always an option, but why not avoid the crowds by finally creating your very own outdoor living space — the one that you've been dreaming of?
Here at Hawkstone Outdoor Design, we understand the great opportunity many homeowners have to go beyond the interiors of your home and create something that is tailored to your lifestyle.
We carry only the best products and provide services that not only give you joy and satisfaction, but that are built to last a lifetime.
Whether you look forward to the summer fun in the pool, cooler months staying warm by an outdoor fireplace, or entertaining your friends and family with a fully equipped outdoor kitchen all year round, Hawkstone Outdoor Design can make your dream a reality.
Hardscape designs to enhance your Jacksonville area outdoor space.
We know how difficult it can be to choose the perfect hardscape materials for your Jacksonville backyard outdoor design project.
If you're looking to upgrade your curb appeal or create the perfect outdoor living area with a new and improved backyard patio, Hawkstone Outdoor Design will use your home's architecture, location, and your personal taste and style to find the perfect materials for your project.
Whether you prefer a coastal look, something traditional, or more of a modern and contemporary style, we promise to find the best materials for the job. Your choices include (but are not limited to):
Pavers
Porcelain
Travertine
Brick
Shellock Pavers
Decorative Block
Stacked Stone
Relax & unwind under your new pergola, cabana, or custom structure.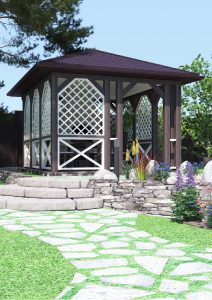 Provide an escape from the summer heat and rain while adding shade and style to your outdoor living space with a pergola, cabana, or other outdoor structure.
A finely designed and constructed place where everyone can go to sit and relax is something anyone can appreciate and enjoy.
Pergolas
Cabanas
Screen Enclosures
OUTDOOR FIREPLACES & FIRE PITS
Nothing beats a cozy backyard fire on a cool Jacksonville area evening.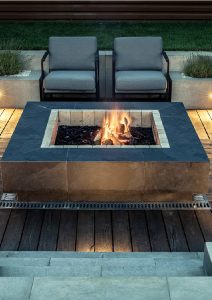 Including a fireplace or a fire pit in your dream backyard adds a tasteful warmth to those cooler days and nights.
Whether you are roasting marshmallows with family and friends or snuggling up with that special someone, a fireplace is a great way to give your backyard or patio more purpose in the fall and winter.
Wood Burning Fireplaces
Gas Fireplaces
Wood Burning Fire Pits
Gas Fire Pits
Food tastes better from your Jacksonville area outdoor kitchen.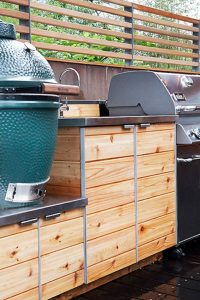 Cooking outside is just better! Why not take advantage of our Florida weather and cook outside all year long?
Outdoor kitchens are becoming more and more popular because ordinary meals are being transformed into outdoor events.
Ranging from a prepping area with a grill and bar seating to fully functional replicas of the modern kitchen complete with smokers, grills, side burners, griddles, refrigerators, coolers, sinks, and outdoor storage for all of your kitchen needs. Hawkstone Outdoor Design can help you design the perfect gathering place for you and yours!
Concrete Countertops
Stacked Stone
Decorative Block
Brick
Tile
Twin Eagles
Delta Heat
Big Green Egg
Green Mountain Grills
Granite Countertops
LANDSCAPE DESIGN
Landscaping makes all the difference.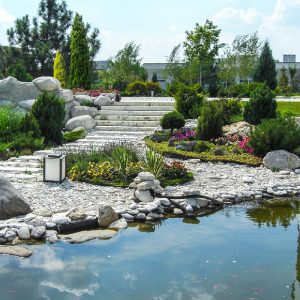 We understand how important landscaping is to enhance a property's curb appeal and create a peaceful, enjoyable environment.
This is an art form, and we want to help you create the perfect design for your project.
We will help you select materials that stand the test of time and plants that will thrive in your surroundings.
OUTDOOR LIGHTING
Outdoor lighting adds dramatic appeal to your Jacksonville home.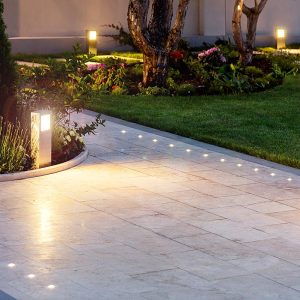 Every Jacksonville backyard needs to have lighting.
We use only the best products for low voltage outdoor lighting, and all of our units are made of built-to-last solid brass.
Outdoor lighting increases your nighttime enjoyment of your backyard, and with our professional design and placement, you will love your backyard more at night than during the day.
Post Lights
Undercap Lights
Step Lights
Down Lights
Up Lights
Pendant Lights
Sconce Lights
Spotlights
POOL DESIGN
Pool and water features for your Jacksonville home.
In our gorgeous Jacksonville climate, outdoor living is a part of our every day.
Hawkstone Outdoor Design can help you enhance your outdoor living enjoyment with swimming pools, spas, and custom water features.
We team up with the best builders in town to offer you a full one-stop-shop for all of your outdoor living needs.
Salt Systems
Heated Pools
Water Features
Cost Estimator: The Beaches Jacksonville Yard Design
We understand the need to have an idea of costs and options before making an inquiry with our consultant and design team.
All of our backyards are custom designed and built, so it is difficult to give an exact quote for construction cost in a format like this. However, we invite you to select the type of materials and features you want and see approximately what that type of outdoor living space may cost.
More importantly, this page will help you understand the major variables when it comes to pricing your project. When selecting your kitchen features, we use only the best American-made products and are happy to discuss the variables in pricing when choosing the best brand for you.
It's fun and easy to use!
An estimate of total construction cost appears below once you fill in all of the selections. You can then change selections and see what effect it has on the price.
Just keep in mind, it's an estimate based on limited inputs, not an exact price quote, so if you are looking to get your specific project priced-out, don't hesitate to give us a call. We will have our professional consultant come out to discuss your ideas and guide you to making the best decision possible.